What is the 252 Project?
Born out of conversations with men in our church and the "Loving God with Your Whole Person" core class, the 252 project hopes to challenge and encourage men of HPBC to increase in wisdom, stature, favor with God, and favor with men over the course of the calendar year by completing specific challenges in the context of community and accountability. If you are single, this is a great way to connect. If you are a father, we encourage you to participate with your son. If you are a 20-something, middle-aged, or a senior saint we encourage you to participate. We all need one another as we seek to pursue to follow after Christ. The cost is $20 for men and $10 for students which includes the main book.
252 comes from Luke 2:52 which reads, "And Jesus grew in wisdom and stature, and in favor with God and man." Jesus grew physically, as all boys grow into men. At the same time His wisdom deepened so that as the years advanced His influence on other men also deepened. His good reputation provided Him favor as He began His public ministry. What opportunities in our lives might be helped by our own growth? We want to group up with other men to begin answering this question.
What would I be committing to?
We will be dividing the year into 3-month increments for a total of 4 increments. Each man would work with a small group for accountability while completing challenges that fall into the following categories: Intellectual (Wisdom), Physical (Stature), Spiritual, and Relational (Favor with God and with man). You will have options for each challenge allowing every man at HPBC to participate regardless of age or physical ability. Each increment would include some type of activity or reward, for example, a men's hike or campout, March 3-5 (more information to come).
What types of challenges?
For each category choose one A challenge and two B challenges.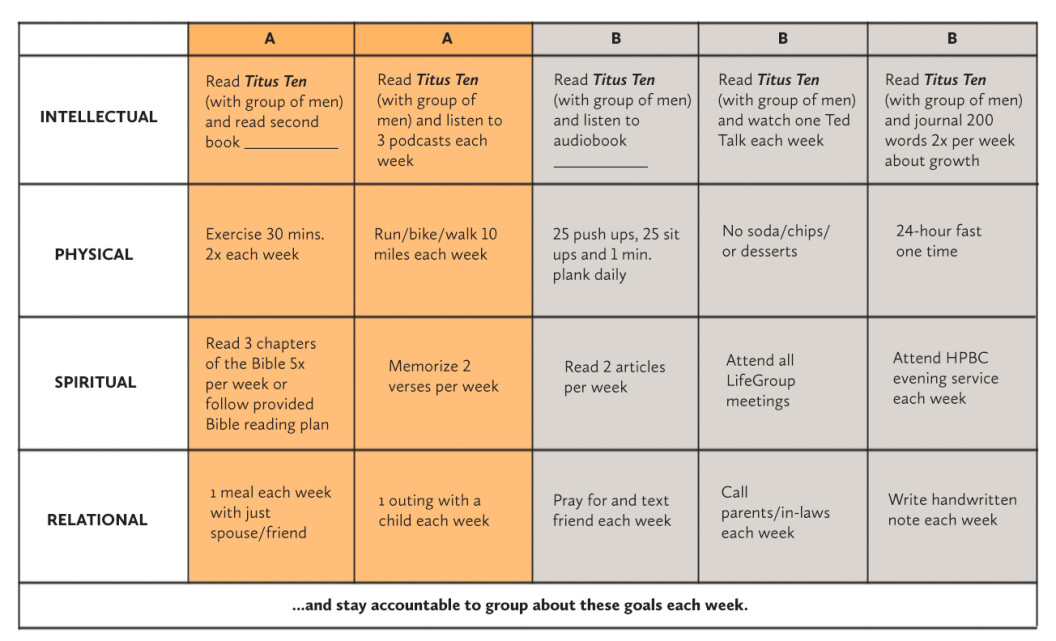 Download the challege chart here if trouble viewing on browser
Why commit to the 252 Project?
Statistics tell us that more than 90 percent of American men believe in God, and five out of six call themselves Christians. But only one out of six attend church on a given Sunday. The average man accepts the reality of Jesus Christ but fails to see any value in going to church. Much of this is due to difficulty in building friendships. This leads to less commitment to the classic spiritual disciplines of prayer and Bible study and ultimately weakens the effectiveness of specific families and local church bodies.
We believe the 252 Project will allow men the opportunity to pursue friendship (favor with men) recommit to spiritual disciplines (favor with God). We believe the community the 252 Project provides will help men seek to be more physically and intellectually healthy. All of these outcomes would be a blessing to the individual, their friends, their family, and their church body.
I want to participate. What are my next steps?
If you are ready to begin you can sign up today! Click the link on this page to register. We would encourage you to talk to a few of your friends and get them to join you in this project. Choose the challenge that you want to participate in and on January 1, 2023, start practicing those challenges. This is what we are calling the 252 Project "soft launch."
In addition, plan to attend an informational meeting on Sunday, January 15, after the Evening Gathering in the Blue Room. All men who are interested are invited to attend. We will discuss the project in more detail. That evening we will have books, Bible reading plans, and the opportunity to find a group (if you don't have one) to participate in the project with. We will provide details on the March men's campout/hiking trip, and we will attempt to answer any questions you have about launching out to a more spiritually, intellectually, and physically blessed year!