July 31 Update
Plans to Resume Normal Sunday Schedule
Sunday Morning Worship
We will meet outdoors on Sunday, August 2, at 9:00 a.m. We hope that the outdoor venue will continue to facilitate the maximum number of members feeling comfortable participating in worship. See more specific information on our outdoor morning worship below.
Sunday Evening Gathering
Our Sunday Evening Gathering will be in the Main Auditorium on August 2, at 5:30 p.m.
Sunday School
The resume date for Sunday School is TBD.
Children's Ministry
Partial Children's Ministry will resume on August 2. We will have nursery and preschool classes available in the evening only. Pastor Wooster will send out more information about Children's Ministry this week.
HPBC Morning Worship Service Plans
Date: August 2
Plans:
Plan A is for outdoor morning service on August 2.
Plan B would be if the weather does not permit Plan A for those dates.
A call on the weather will be made early Sunday morning.
Time: 9:00 a.m.
We are bumping the service time up to help with the outdoor temperature.
Location:
Plan A: Outdoor (lower parking lot and grassy areas)
Plan B: Indoor (Main Auditorium)
Logistics of Plan A: Outdoor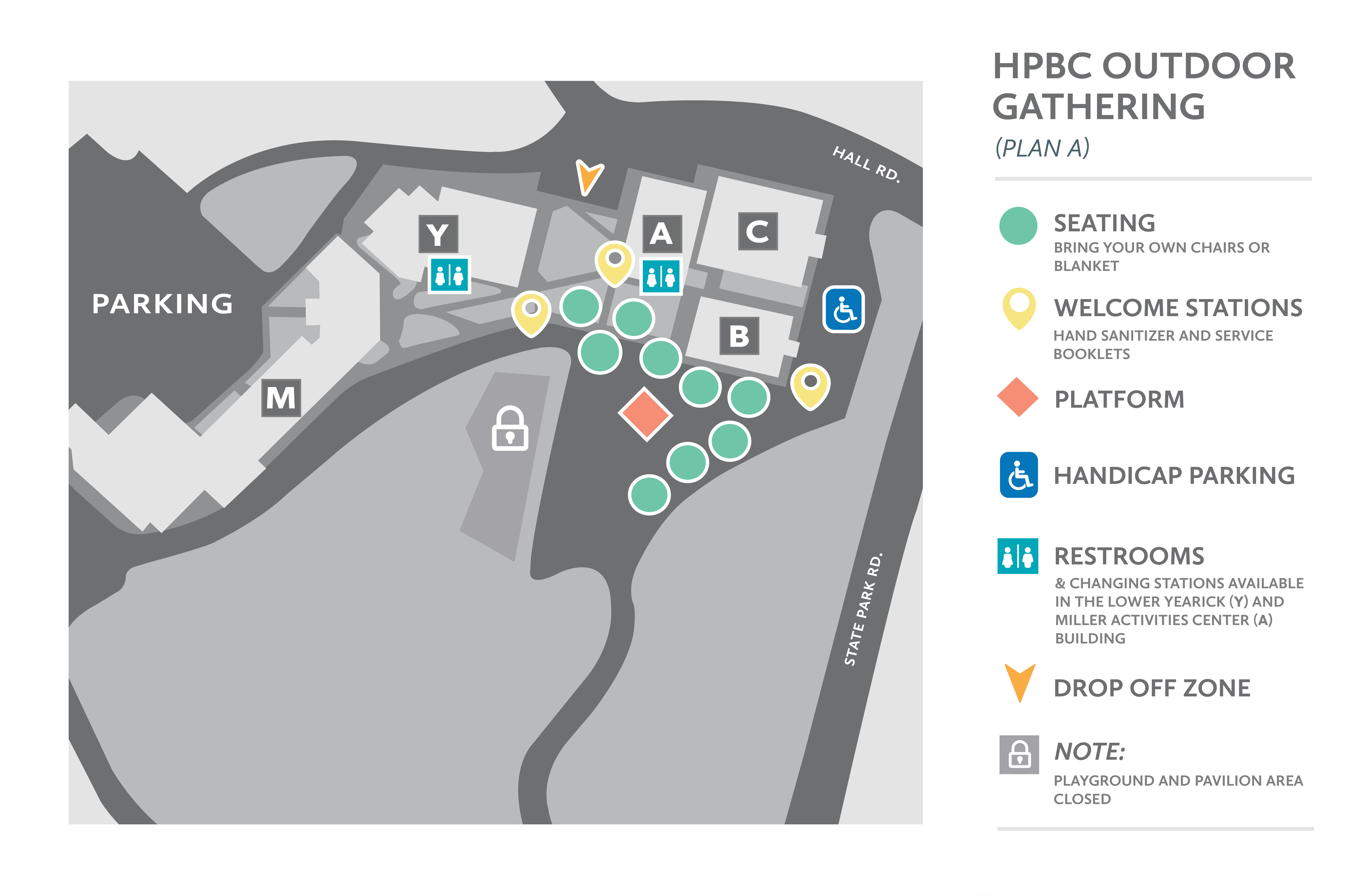 Parking:
For those who are able, please park in the upper lot and walk down the hill.
Handicap parking is available next to the Brown (B) and Collins (C) buildings facing State Park Rd.
Welcome Stations:
Three stations will have hand sanitizer, service booklets, children's bulletins, and offering boxes.
Children's Ministry:
No nursery or children's ministry. Parents, please have your children with you at all times.
Seating:
Please bring your own seating: chairs and/or a blanket.
The lower parking lot is available to set up chairs and seats.
The grassy areas around the A, B, and Y buildings are also available for seats/blankets.
Please keep your seats/blankets around 6 feet apart from other family units.
Restrooms:
Restrooms (and changing stations) will be available in the lower Yearick Center (Y building) and Miller Activities Center (A building).
What to Bring:
Chairs/blankets on which to sit
A filled water bottle (no water fountains available)
Sunglasses and/or a hat
Crayons or other writing utensils for the children's bulletin
Feel free to dress casually. Dress for outdoors.
If you choose to bring an umbrella for shade, please sit towards the back so as not to block those behind you.
Feel free to wear a mask.
Logistics of Plan B: Indoor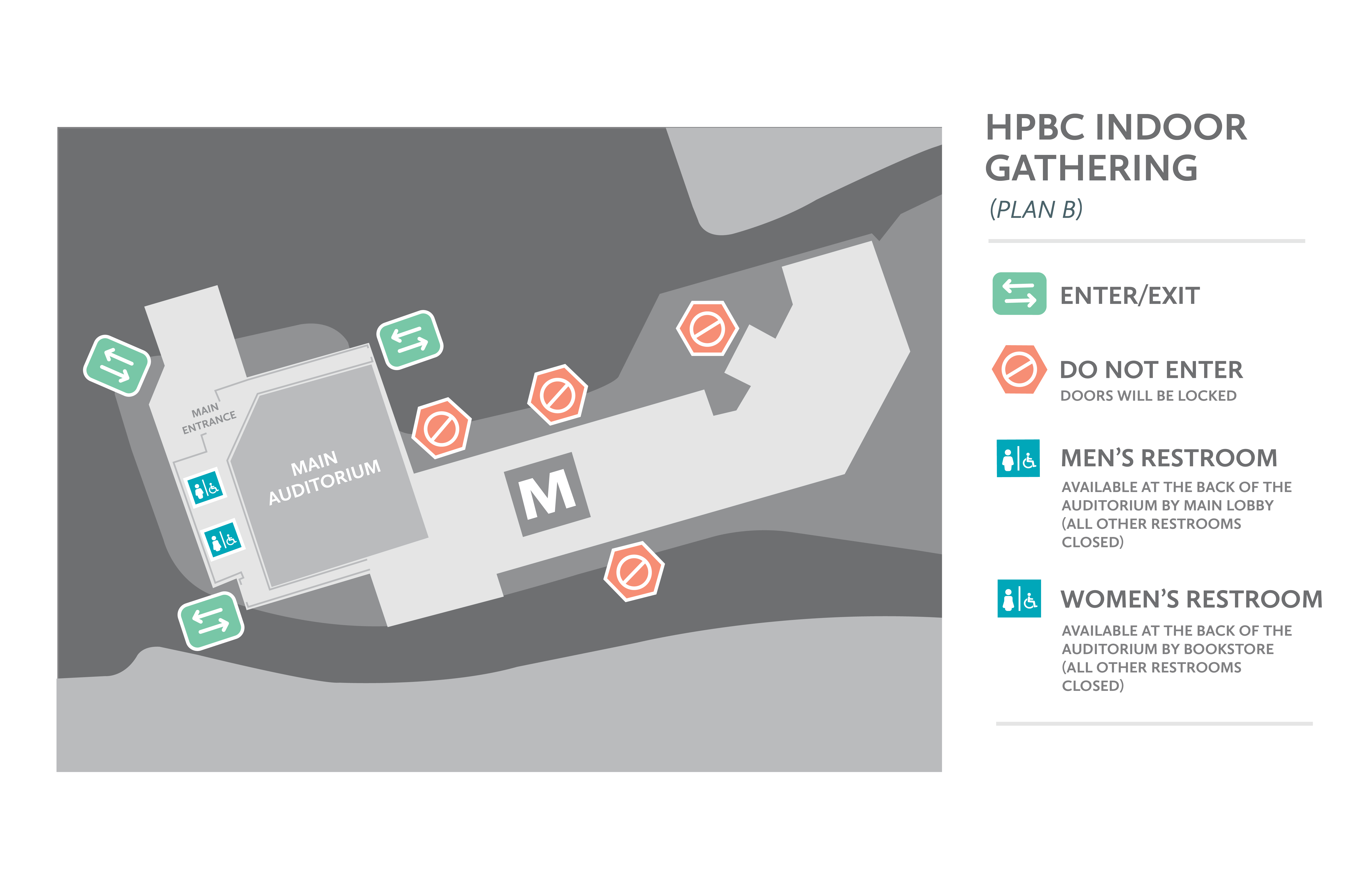 Parking:
Entrance:
Please enter through the main entrance, the entrance nearest the Connection Center, or the entrance nearest the bookstore. All other entrances will be locked.
Please do not congregate near any entrances to the building.
Congregational Singing:
Congregational singing will be near the end of the gathering if we meet indoors. If any attending are uncomfortable being present during indoor singing, they may leave before the singing segment begins.
We encourage, but do not require, attendees to take the additional precaution of wearing a shield or mask both during and after indoor singing until they have exited the building.
Children's Ministry:
No nursery or Children's Ministry for the morning service. Parents, please have your children with you at all times.
Seating:
Every other row on the main floor and balcony in the Main Auditorium will be used for seating. Rows that are not available will be marked.
Please keep three seats between your family unit and the next family unit in the row. Even if you are comfortable with sitting next to another family, please help us by keeping three seats open between you so that we can easily encourage the same expectation for everyone.
The Miller Activities Center (MAC) will be used for overflow.
Offering:
Offering boxes will be available near the exits to the auditorium.
Restrooms:
Restrooms will be available in the back of the auditorium only (ladies' next to the bookstore and men's next to the main lobby).
What to Bring:
A Bible - the Bibles in the book racks will be removed
A filled water bottle (no water fountains available)
Feel free to wear a mask.