Sunday Morning Worship
We will meet indoors in the Main Auditorium at 10:30 a.m. for Morning Worship. The Main Auditorium now has open seating throughout. For any who desire distanced seating, two options are available: The Miller Activities Center ("A" Building) and the two corner sections of the main floor as well as the two outside sections of each side of the balcony in the Main Auditorium. See below for further details.
Children's Ministry
Children's Ministry is available for Sunday School at 9:30 a.m. for Nursery-6th grade, and for Nursery-5th grade for the 10:30 a.m. Morning Worship. Nursery and Preschool Kids4Truth are available during the 5:30 p.m. Evening Gathering.
Sunday Evening
Our Quarterly Members' Meeting is this Sunday evening, October 25, at 5:30 p.m. Please note that this meeting is not open to regular attenders (non-members) or guests. There will not be a service this Sunday evening, but nursery will be provided as well as our normal evening Children's Ministry.
HPBC Morning Worship Service Plans
Logistics of Sunday Morning Indoor Gatherings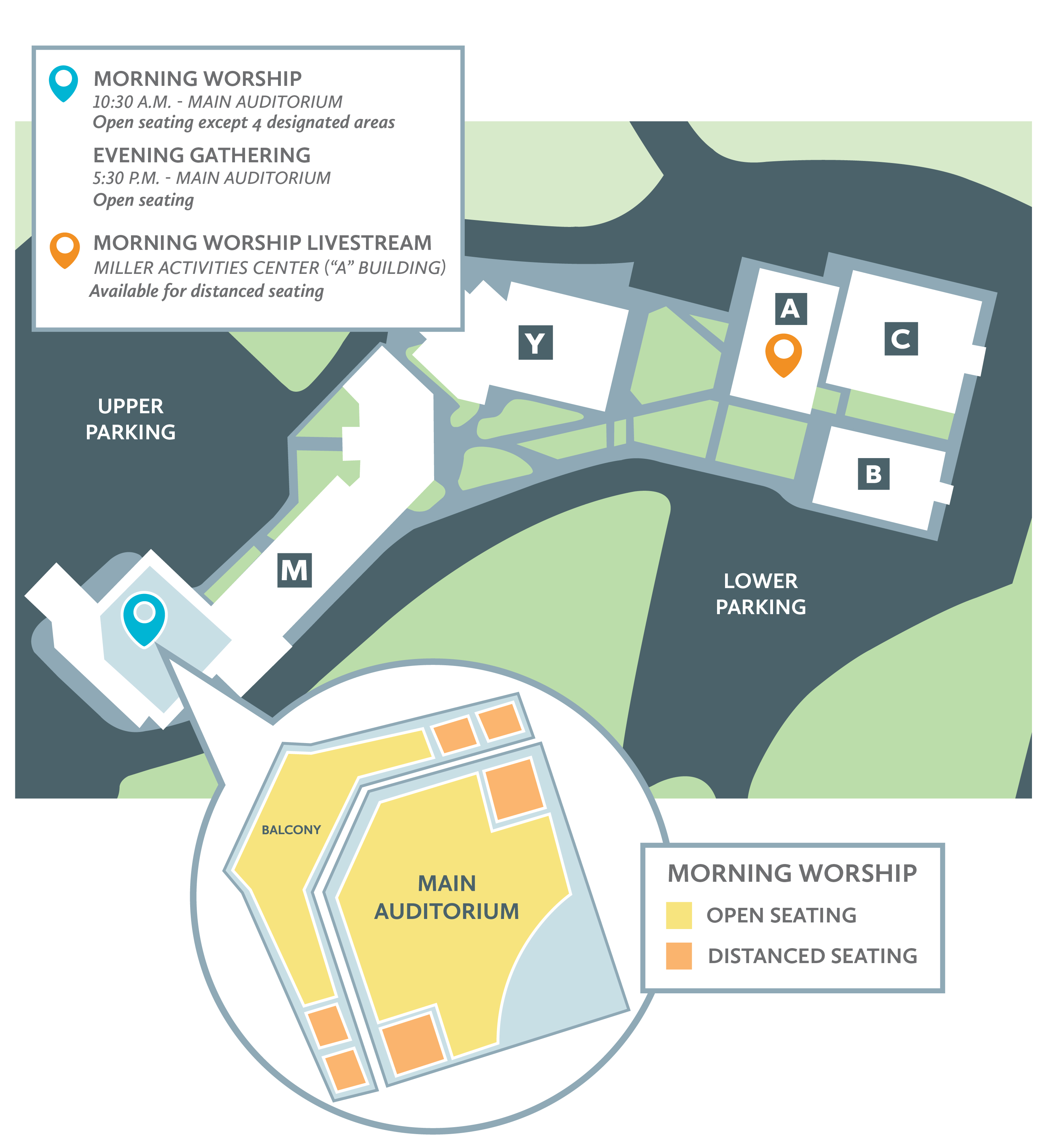 Seating:
The Main Auditorium will now be open seating throughout. We will no longer close every other row or require three seats in between family units. For any who desire distanced seating, two options are available:

Livestream will be projected on a large screen in the Miller Activities Center (MAC, or "A" building), where there will be just 4 seats per each large round table. Tables are spaced at least six feet apart.
Additionally, the Main Auditorium will have four sections of distanced seating in both rear corners on the main floor and in the balcony. The distanced seating on the main floor is specifically designated for the elderly who wish to be distanced but who would also have trouble with either the location or acoustics of the Miller Activities Center. The distanced seating in the balcony is open to anyone.
Congregational Singing:
Congregational singing will be near the end of the gathering when we meet indoors. If any attending are uncomfortable being present during indoor singing, they may leave before the singing segment begins.
We welcome attendees to take the additional precaution of wearing a shield or mask both during and after indoor singing until they have exited the building.
Offering:
Offering boxes will be available near the exits to the auditorium and Miller Activities Center.
What to Bring:
A Bible - the Bibles in the book racks will be removed
Feel free to wear a mask.