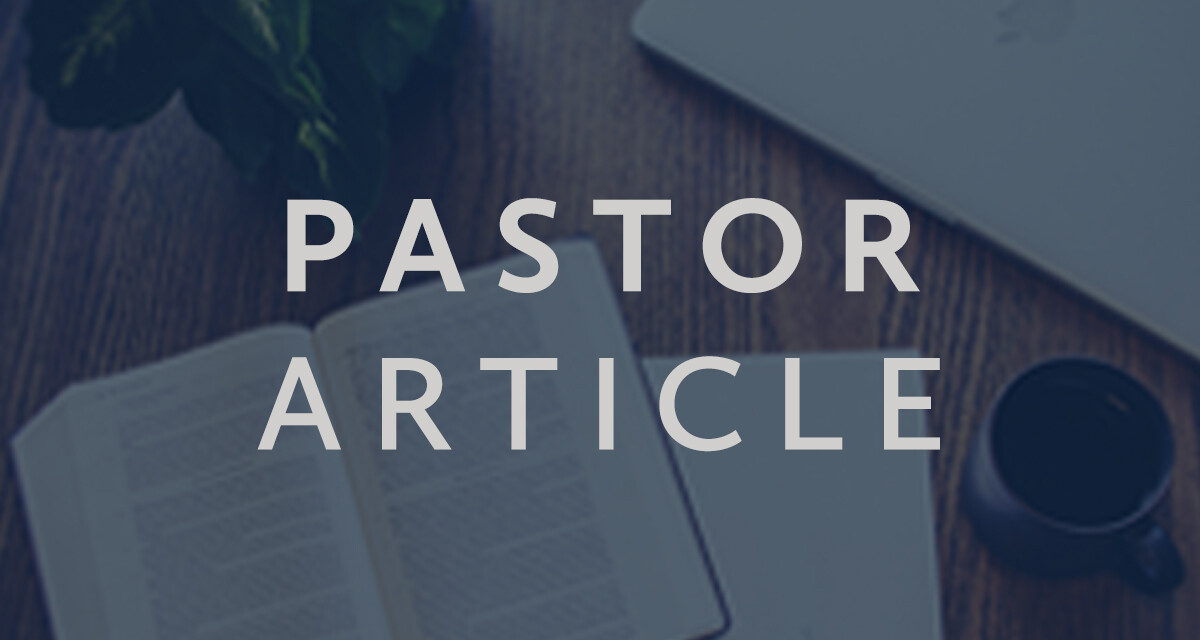 Ten Reasons God's Commands Are Not Burdensome
1 John 5:3 makes a provocative statement that at first glance seems out of touch with reality: "And [God's] commandments are not burdensome." Commandments not burdensome? For real? If this is your first reaction (like it was mine), then you probably see commands as almost inherently burdensome. That's the whole point of commands, isn't it? To constrain those commanded? So, how can John say this? On what basis are God's commands not burdensome? In meditating on this, I came up with ten reasons (though there are likely far more) that God's commands are not burdensome.
1. God's commands are in line with how he created the world. If God created everything (Genesis 1), if he sustains everything (Hebrews 1:3), if he knows where true satisfaction and joy are found (Psalm 16:11), if he is a good God (Psalm 100:5), then he knows (and created!) how this world is intended to operate. And His commands are in keeping with how he created everything. Imagine trying to operate an MRI machine without any operator's manual. You need the manual full of instructions (commands) so that you know how it is intended to work. So it is with God's commands. His commands are not burdensome because they are given to us so that life can flourish in the world he created.
2. God's commands are for our good. When a parent commands a child not to touch a stove top or not to poke a paper clip into an electrical outlet, the parent is not intending to burden the child. In fact, the exact opposite is happening: the parent is trying to save the child from significant burdens that would otherwise swiftly come. Life in a fallen world is full of these kinds of burdens. God's commands similarly graciously guard his children from significant burdens that come from living life outside of the boundaries that he has given. If you want to see a burdensome life, then live life outside of God's commands. His commands are not a burden because they guard us from self-inflicted burdens of life in a fallen world.
3. God's commands are simple. The religious leaders in Jesus' day developed a complex list of commands to follow. Some of the commands were ones that they themselves designed to help them keep the commands that God had given. They were commands for the sake of the commands. And there were lots of them. Sometimes people look at the Old Testament and view it as a complex list of commands. And yet when Jesus was asked about the greatest commandment in the Law, his answer was strikingly simple: "You shall love the Lord your God with all your heart and with all your soul and with all your mind. This is the great and first commandment. And a second is like it: You shall love your neighbor as yourself. On these two commandments depend all the Law and the Prophets" (Matthew 22:37-40). Two. That's it. The entirety of God's commands summed up in two: love God and love your neighbor. It's that simple. God's commands are not a burden because his commands are not complex.
4. God's commands are not the means by which his approval is gained. The beauty of the gospel is that acceptance with God does not come from my perfect obedience to God's law or through my performing some level of penance that will earn back God's favor. Approval in God's sight comes through union with the only one to perfectly obey God's commands: Jesus. This means that God's commands take on a distinct role in the life of a Christian. They are no longer the means by which we are condemned as by a judge but rather the means by which we are instructed/taught as by a Father. His commands are not burdensome because our obedience is the fruit (not the root) of our salvation.
5. God enables what he commands. God does not merely give his children commands. Rather, by the power of the Spirit, God works in his children that which he commands them. He empowers what he demands. He promised this when Jeremiah prophesied of a new covenant: "For this is the covenant that I will make with the house of Israel after those days, declares the LORD: I will put my laws within them, and I will write it on their hearts. And I will be their God, and they shall be my people" (Jeremiah 31:33). God's commands are not burdensome because he promises to produce in us that which he requires of us (Philippians 1:6).
6. God commands us, not just me. God did not leave us to follow him alone. He gave us the gift of a family called the local church. In this family we have pastors who teach us and friends who exhort us, encourage us, and support us. This gospel-motivated community called the local church is ready to help me follow God's commands no matter the situation: "Rejoice with those who rejoice, weep with those who weep. Live in harmony with one another" (Romans 12:15-16). "And we urge you, brothers, admonish the idle, encourage the fainthearted, help the weak, be patient with them all" (1 Thessalonians 5:14). God's commands are not burdensome because he gives his commands in the context of a loving community.
7. God commands, yet God forgives. Commands imply obedience. Commands are given to be obeyed. Yet this is why they are so often burdensome. Commands induce guilt because they are often not obeyed. But because of Jesus' work on the cross, we are told this: "If we confess our sins, he is faithful and just to forgive us our sins and to cleanse us from all unrighteousness" (1 John 1:9). Then, just a couple verses later: "I am writing these things to you so that you may not sin. But if anyone does sin, we have an advocate with the Father, Jesus Christ the righteous" (1 John 2:1). When you feel burdened by God's commands, remember the gospel of God's forgiveness in Christ. God is not only faithful to forgive sins, he is just to forgive sins because the sins have already been paid for in Jesus. God's commands are not burdensome because he faithfully and justly forgives us in Christ whenever we come to him in repentance.
8. God's commands are not his only word. If the only thing God spoke were commands, then his commands would likely feel burdensome. However, God's commands are not the only words that he has spoken. In fact, much of the Bible is filled with words from God other than commands. Much of the Bible explains the story of how God has continually pursued dwelling with his chosen people, as seen in the Garden of Eden, the Tabernacle, the Temple, the incarnation of Jesus, the indwelling Holy Spirit, the church, and the new heavens and new earth. God does not just command. He speaks words of promise, covenant promises grounded in his steadfast love. God's commands are not burdensome because his commands flow out of his committed covenant relationship with his people.
9. God's commands are worth singing about! We tend to sing about the things that we love or the things that move our affections most significantly. It's significant, then, that in the Bible's song book (Psalms) there are many songs that celebrate God's commands. Maybe the two most significant are Psalm 19 and 119, where we read (or sing!) phrases like, "More to be desired are [your commands] than gold, even much fine gold; sweeter also than honey and drippings of the honeycomb" (Psalm 19:10) or "Your testimonies are my delight; they are my counselors" (Psalm 119:24). When I'm viewing God's commands rightly, I'm energized to sing about them. God's commands are not burdensome because rightly understood, they are sweet, satisfying, and song-worthy.
10. God's commands do not change. One of the burdensome things about commands in our world is that they change. People change, policies change, presidents change. Employers change their procedures, friends change their views, parents change their minds. This changing of what's expected of us in so many different contexts can be quite burdensome! But God does not change (Numbers 23:19). His character and His word are consistent for all eternity (Matthew 24:35). God's commands are not burdensome because they are consistent, unchanging.

There are certainly many other reasons that God's commands are not burdensome. As I was working through these, I thought of the fact that God's commands point us to where true hope and satisfaction is found, as in his command to "seek the things that are above, where Christ is, seated at the right hand of God" (Colossians 3:1). Or how his commands guard us from wasting our resources in this life: "lay up treasures in heaven, where neither moth nor rust destroys and where thieves do not break in and steal" (Matthew 6:19-21). What other examples can you think of?

Here's the point. There are countless reasons for us to believe that this statement from 1 John 5:3 is not an empty phrase thrown out there to make us feel better about the fact that there are a lot of commands in the Bible. 1 John 5:3 is true and powerful and defensible in numerous ways. Ultimately, may this brief meditation lead us to rejoice in God's commands, as does the songwriter at the end of the longest Psalm: "I long for your salvation, O Lord, and your law is my delight. Let my soul live and praise you, and let your rules help me. I have gone astray like a lost sheep; seek your servant, for I do not forget your commandments" (Psalm 119:174-176).